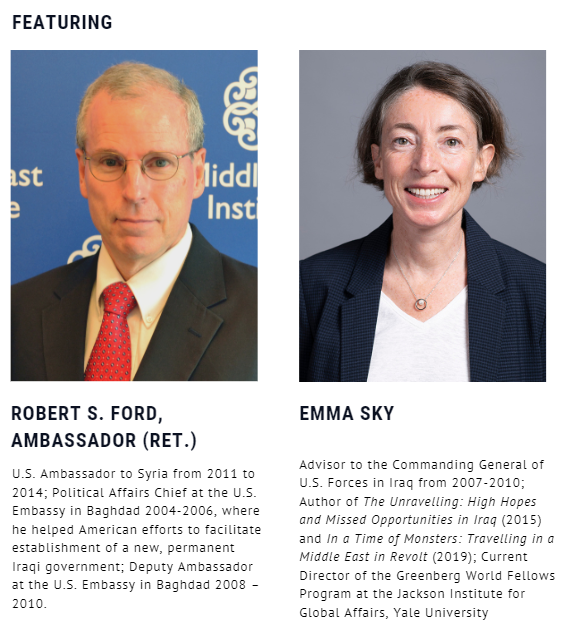 Featuring Robert S. Ford, Ambassador (Ret.)
Ambassador Robert Ford is a scholar at the Middle East Institute in Washington, DC and a fellow Yale University's Jackson Institute for Global Affairs where he teaches about U.S. foreign policy and the Middle East.
Ford was the U.S. Ambassador to Syria from 2011 to 2014. For his defense of human rights in Syria he received the Profile in Courage award from the John F Kennedy Library in Boston in 2015. Ford also served as the Political Affairs Chief at the U.S. Embassy in Baghdad 2004-2006 where he helped American efforts to facilitate establishment of a new, permanent Iraqi government. He was Deputy Ambassador at the U.S. Embassy in Baghdad 2008 – 2010 where he led a team that prepared the plans for the longer-term U.S. diplomatic presence in Iraq used by the Obama administration. He was the U.S. Ambassador in Algeria 2006 – 2008 where he strengthened bilateral cooperation in the rule of law and education sectors. He also served in Bahrain, Cameroon, Egypt, Turkey and Washington. Before joining the diplomatic service he was a volunteer teacher with the Peace Corps in Morocco 1980 – 1982.
Ford speaks English, Arabic and French and appears regularly in US, European and Arabic media. He has published articles in the New York Times, the Washington Post, and Foreign Affairs among others and has given guest lectures at Harvard, Princeton, MIT, UCLA, Tufts, Johns Hopkins and other schools in the U.S. and Canada. Ford was featured in the book The Ambassadors: America's Diplomats on the Front Lines, by Paul Richter, recently released in late 2019.
Emma Sky, Yale University
Emma Sky is director of Yale's Maurice R. Greenberg World Fellows Program and a Senior Fellow at the Jackson Institute, where she teaches Middle East politics. She is the author of the highly acclaimed The Unravelling: High Hopes and Missed Opportunities in Iraq (2015) and In a Time of Monsters: Travelling in a Middle East in Revolt (2019).
Sky served as advisor to the Commanding General of US Forces in Iraq from 2007-2010; as advisor to the Commander of NATO's International Security Assistance Force in Afghanistan in 2006; as advisor to the US Security Co-ordinator for the Middle East Peace Process in 2005; and as Governorate Co-ordinator of Kirkuk for the Coalition Provisional Authority, 2003-2004. Prior to that, Sky worked in the Palestinian territories for a decade, managing projects to develop Palestinian institutions; and to promote co-existence between Israelis and Palestinians. In addition, Emma has provided technical assistance on poverty elimination, human rights, justice public administration reform, security sector reform, and conflict resolution in the Middle East, South Asia and Africa.
Sky has published numerous articles including in The New York Times, Foreign Affairs, Foreign Policy, Politico, Atlantic, Slate, Survival, Center for a New American Security, US Institute of Peace, the Guardian, and the Journal of the Royal United Services Institute for Defence and Security Studies. Sky was educated at Oxford (UK), Alexandria (Egypt), Hebrew University of Jerusalem (Israel) and Liverpool (UK). Sky is an Officer of the British Empire.
Questions? Please contact Amanda Jolly, VP, Programs, at (860) 241-6118 or ajolly@ctwac.org.