---
Rescheduled: October 2, 2020
For the first time ever, the Luminary Award will join forces with the Opening Reception of the Global Security Forum 2020 for one powerful evening. On Friday, October 2, we will have the honor of celebrating the local, national, and global leadership of Paul Bucha, Recipient of the Medal of Honor. All sponsorships and tickets will be transferred.
The Luminary Award was created to honor remarkable individuals who have had a profound impact on global affairs, with an emphasis on the betterment of the world.
Join us to celebrate national hero and Connecticut champion, Paul Bucha, recipient of the Medal of Honor.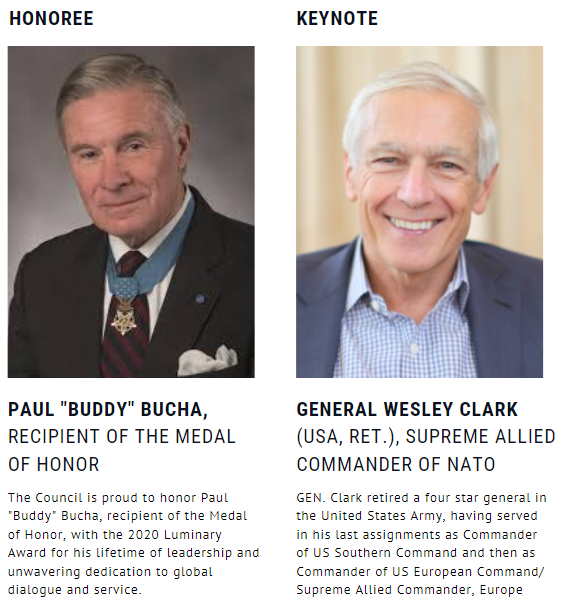 ---
Sponsorship Opportunities Available
Interested in sponsoring a student's participation? Click "Tickets" to find out more.
Click here for details: Sponsorship Opportunities
To discuss Sponsorship Opportunites, please contact CEO Megan Torrey at mctorrey@ctwac.org 
---
About the Luminary Award
The Luminary Award is a celebration of the global impact of remarkable Connecticut leaders. The evening also supports the Council's mission to engage our community in critical global issues – more important today than ever before. Since 1924, the mission of the Council hasn't changed. But one thing has…
The 2020 Luminary Award is debuting a new look. In order to maximize what you love about the evening – fine food, a powerhouse room of global guests and businesses, recognizing an incredible network of supporters, and celebrating students and leaders making a difference on the world stage – this year's Luminary and will truly be something special.
The celebration kicks off at the Capital Grille in downtown Hartford where the global movers and shakers of our state and region gather for a formal reception. Featuring passed champagne, open bar with craft cocktails, and full hors d'oeuvres and stations by the award-winning chefs at the Capital Grille. You will also have the opportunity for professional photos with your guests and experience the special atmosphere of Hartford's best room for making global connections.
After the reception, guests proceed via private exit next door to the theater at Infinity Music Hall to take their seats for the Luminary Award presentation and interactive keynote by GEN. Wesley Clark, former Supreme Allied Commander of NATO.
High visibility signage throughout the evening highlights Luminary sponsors and supporters. Sponsors can reserve designated rows with featured signage, or join the VIP mezzanine section with honorees and fellow top sponsors.
And the global celebration doesn't have to stop! All are invited to continue the conversations with a night cap and dessert at the Luminary After Party.
---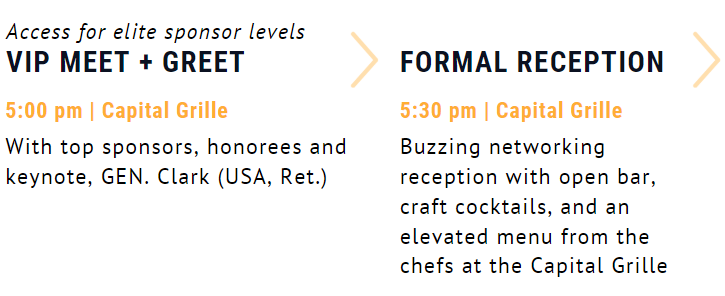 ---
Luminary Award History
2004 – Harry Jack Gray, former Chairman of UTC –keynote The Honorable Alexander Haig
2005 – University of CT UNESCO Chair, keynote — keynote President Mary Robinson
2006 – Save the Children, keynote — keynote Cokie Roberts
2007 – Connecticut's Iraq and Afghanistan war veterans — keynote General Eric Shinseki
2008 – ESPN International in recognition of their role in global sports diplomacy — keynote Chris Berman
2010 – Former Secretary of State, Dr. Henry Kissinger
2011 – Association of Hole in the Wall Camps
2012 – Nobel Peace Prize Committee
2013 – Sikorsky Aircraft Corporation—A leading global innovator
2014 – AmeriCares  — keynote Ambassador Robert Ford
2015 – Peter G. Kelly, Esq. — keynote Senator Mark Warner of Virginia
2016 – Aerospace Components Manufacturers — keynote Colonel Mark Tillman
2017 – United Technologies (UTC) — keynote Dr. Robert Ballard
2018 – Yale Cancer Center
2019 – Stanely Black and Decker
---
FAQs
What is the attire? 
Business Attire
What are my transport/parking options getting to the event?
Parking is plentiful in the attached North Garage. Enter at the end of Front St. Crossing. Alternately, the South Garage is available, directly across the street from Infinity Hall, behind Bear's Smokehouse.
There is also some on-street, metered parking on and around Front St.
Where can I contact the organizer with any questions?
Please email info@ctwac.org with any questions, or for more information on sponsorship.